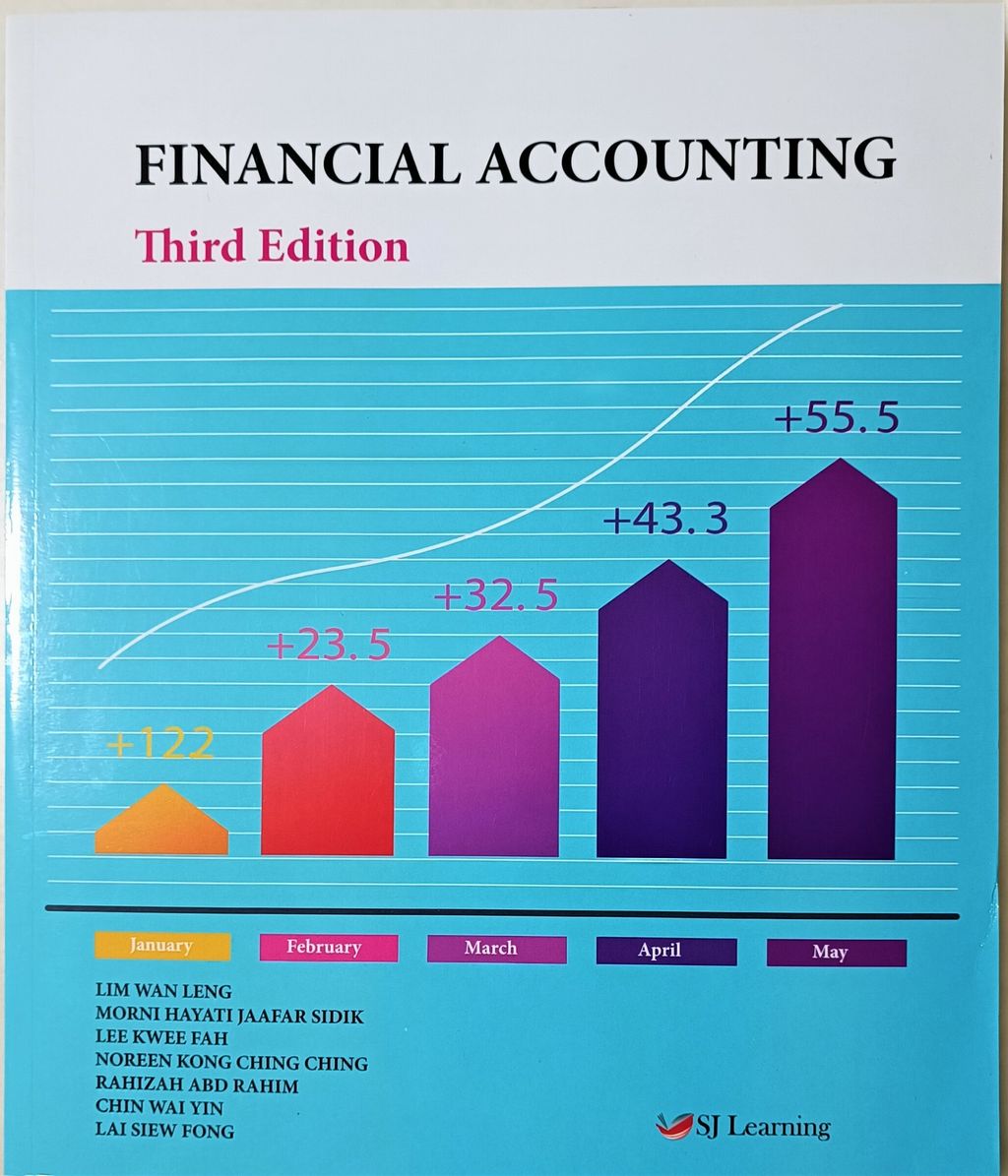 Financial Accounting Lim Wan Leng / Morni Hayati 3E 9789671599754
Title : Financial Accounting Lim Wan Leng / Morni Hayati / Lee Kwee Fah / Noreen Kong
ISBN13 : 9789671599754
PUBLISHER : SJ Learning (2021)
EDITION : 3RD Edition PAPERBACK
PAGES : 316 Color PAGES
This fundamental financial accounting book is prepared for the benefit of students undertaking Accounting or Business related courses at the tertiary level. The principles and concepts of financial accounting are presented in an orderly manner with a good mix of illustrations and comprehensive examples to encourage meaningful learning experience. In addition, students are able to reinforce what they have learnt through review questions and application exercises at the end of each chapter.
Key features
Intended for students in Foundation, Diploma and first-year Degree courses
Provides step-by-step explanations through the use of worked examples to enhance understanding
Closes each chapter with review questions and application exercises to help assess students' comprehension of topics
Highlights key terms and offer useful study tips as margin notes for quick review
About The Authors
Dr Lim Wan Leng is currently working as an Assistant Professor in the Department of Accountancy at Universiti Tunku Abdul Rahman. She has more than 23 years of teaching experience in the tertiary education. She lectures the undergraduate and MBA students in the field of financial and management accounting. She is also a facilitator for the ACCA Strategic Professional module – Strategic Business Reporting (SBR). Before joining the education field, she has worked eight years in a property management company.
Dr. Lim is a certified HRDF trainer and has conducted a series of workshops on areas related to accounting and business. She is a member of the Malaysian Institute of Accountants (MIA) and ASEAN Chartered Professional Accountant (ASEAN CPA); is active in the MIA-Care programme and is also a MIA Appointee to the Council of Malaysian Association of Accounting Administrators. She engages in academic researches and supervises MBA and Phd candidates.
Table of Contents


1: Introduction to Accounting

2: Recording the Accounting Information

3: Bad Debts, Provision for Doubtful Debts and Provision for Cash Discounts

4: Accruals and Prepayments

5: Accounting for Non-current Assets

6: Control Accounts

7: Errors and Suspense Account

8: Bank Reconciliation Statements

9: Single Entry and Incomplete Record

10: Accounting for Inventory

11: Final Accounts With Adjustments

12: Manufacturing Account
13: Introduction to Cost and Management Accounting

14: Accounting in Digital Age
---