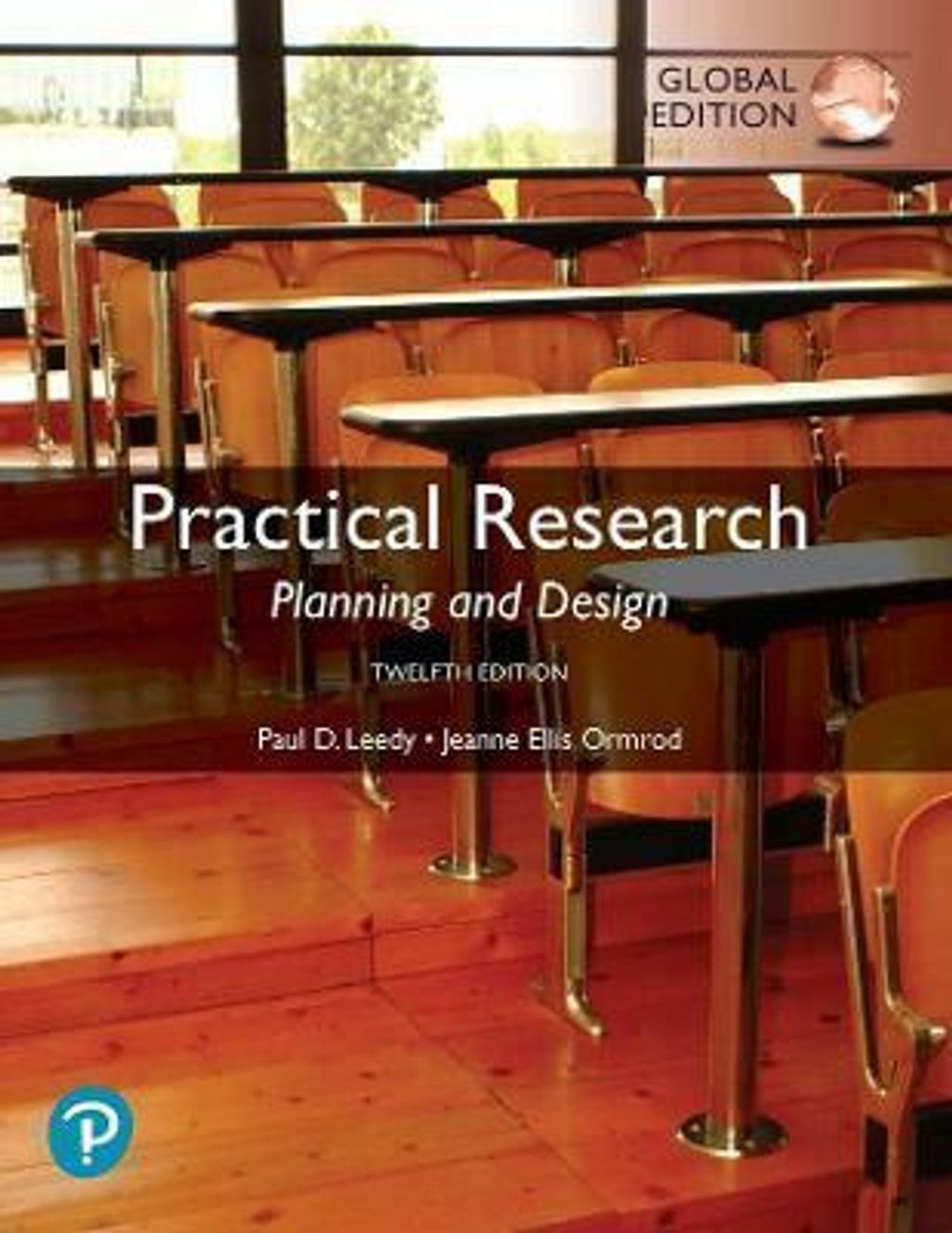 Practical Research: Planning and Design 12TH GE Paul Leedy Jeanne Ormrod 9781292339245
TITLE :Practical Research: Planning and Design - Paul Leedy / Jeanne Ormrod
ISBN13 :9781292339245
PUBLISHER : PEARSON (2020)
EDITION : 12TH GLOBAL EDITION PAPERBACK
PAGES : 480 PAGES
For introductory Research Methods courses in any area of study.

An engaging, cross-disciplinary guide to research methodology Practical Research: Planning and Design is a do-it-yourself, how-to manual for planning and conducting research. Suitable for a wide variety of courses in basic research methodology, the book uses a conversational tone, step-by-step instructions, and practical suggestions to guide the reader from the selection of a problem to the preparation of a completed report.

The 12th Edition has been updated to include the latest technology-based strategies and online tools. Other key changes include a better balance between quantitative and qualitative methods and the addition of a new chapter on action research.
Table of contents
PART I: THE FUNDAMENTALS
1. THE NATURE AND TOOLS OF RESEARCH

PART II: FOCUSING YOUR RESEARCH EFFORTS
2. THE PROBLEM: THE HEART OF THE RESEARCH PROCESS
3. REVIEW OF THE RELATED LITERATURE
4. PLANNING YOUR RESEARCH PROJECT
5. WRITING THE RESEARCH PROPOSAL

PART III: RESEARCH DESIGNS
6. DESCRIPTIVE RESEARCH
7. EXPERIMENTAL, QUASI-EXPERIMENTAL, AND EX POST FACTO DESIGNS
8. QUALITATIVE RESEARCH METHODS
9. MIXED-METHODS DESIGNS
10. ACTION RESEARCH

PART IV: DATA ANALYSES
11. ANALYZING QUANTITATIVE DATA
12. ANALYZING QUALITATIVE AND MIXED-METHODS DATA
PART V: RESEARCH REPORTS
13. PLANNING AND PREPARING A FINAL RESEARCH REPORT

APPENDICES
Appendix A: USING A SPREADSHEET: MICROSOFT EXCEL
Appendix B: USING SPSS
GLOSSARY
---