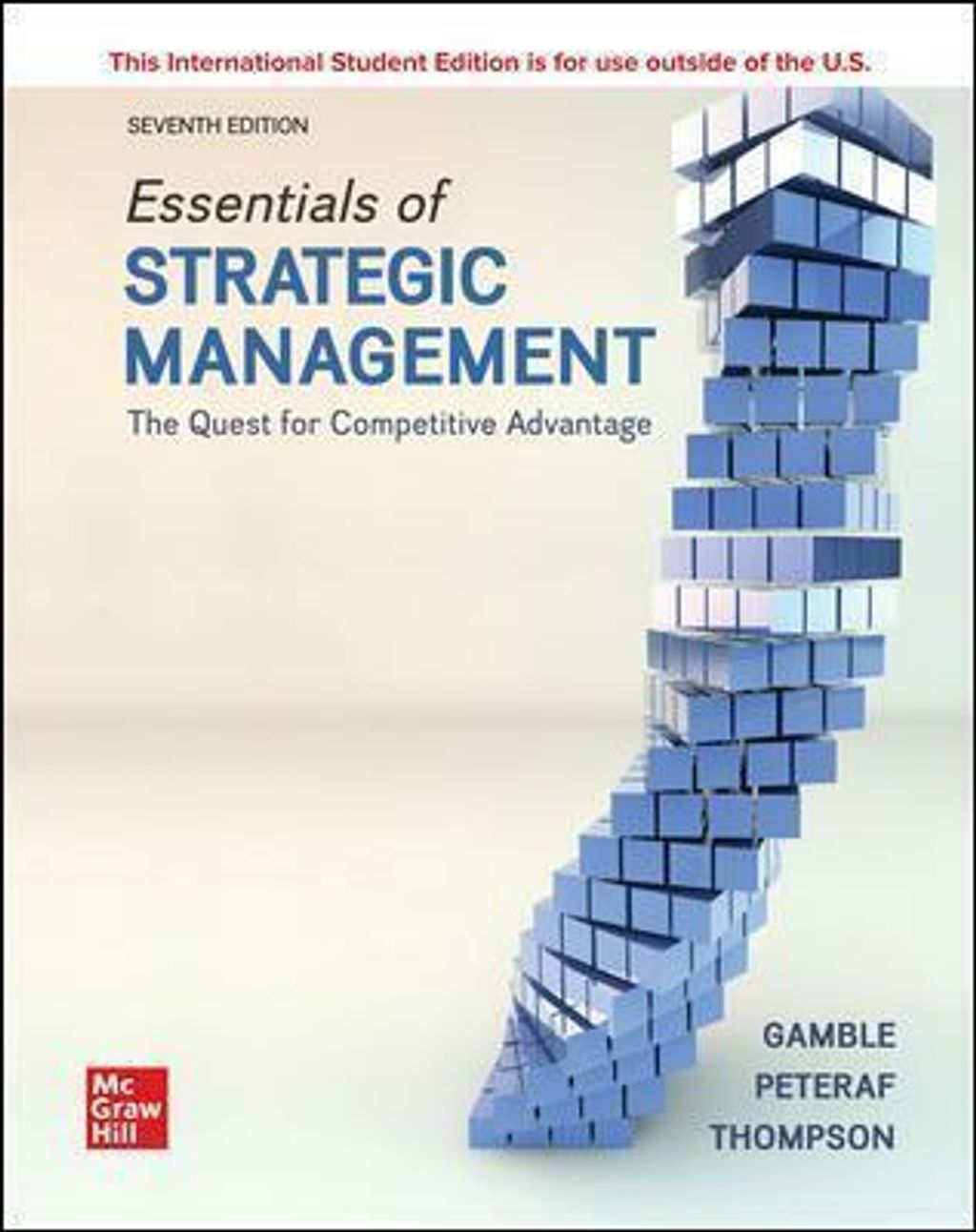 ISE Essentials of Strategic Management 7E John Gamble / Margaret Peteraf 9781260575668
TITLE : Essentials of Strategic Management: The Quest for Competitive Advantage - John Gamble / Margaret Peteraf / Arthur Thompson Jr.
ISBN13 : 9781260575668
PUBLISHER : MCGRAWHILL (2020)
EDITION : 7TH ISE PAPERBACK
PAGES : 426 COLOR PAGES
Essentials of Strategic Management, 7th Edition by Gamble, Peteraf, and Thompson presents concise, straight-to-the-point discussions, and timely examples, with a writing style that captures student interest. It features 10 chapters with 12 diverse and tightly-linked cases. The content is solidly mainstream and balanced, mirroring both insights of academic thought and real-world strategic management. For years, strategy instructors have been shifting from purely text and cases to a text-cases-simulation course structure. Two widely used online competitive strategy simulations, The Business Strategy Game (BSG) and GLO-BUS, are optional companions. Both simulations are closely linked to the content.
Table of contents
PART ONE: CONCEPTS AND TECHNIQUES FOR CRAFTING AND EXECUTING STRATEGY
Section A: Introduction and Overview
1. Strategy, Business Models, and Competitive Advantage
2. Strategy Formulation, Execution, and Governance
Section B: Core Concepts and Analytical Tools
3. Evaluating a Company's External Environment
4. Evaluating a Company's Resources, Capabilities, and Competitiveness
Section C: Crafting a Strategy
5. The Five Generic Competitive Strategies
6. Strengthening a Company's Competitive Position: Strategic Moves, Timing, and Scope of Operations
7. Strategies for Competing in International Markets
8. Corporate Strategy: Diversification and the Multi-business Company
9. Ethics, Corporate Social Responsibility, Environmental Sustainability, and Strategy
Section D: Executing the Strategy
10. Superior Strategy - Another Path to Competitive Advantage
Appendix Key Financial Ratios: How to Calculate Them and What They Mean


PART TWO: CASES IN CRAFTING AND EXECUTING STRATEGY
Case 1 Fixer Upper
Case 2 Lola's Market
Case 3 Under Armour
Case 4 iRobot
Case 5 Twitter
Case 6 Netflix
Case 7 Mattel Incorporated
Case 8 Tesla
Case 9 The Walt Disney Company
Case 10 Robin Hood
Case 11 Starbucks
Case 12 Profiting from Pain
---