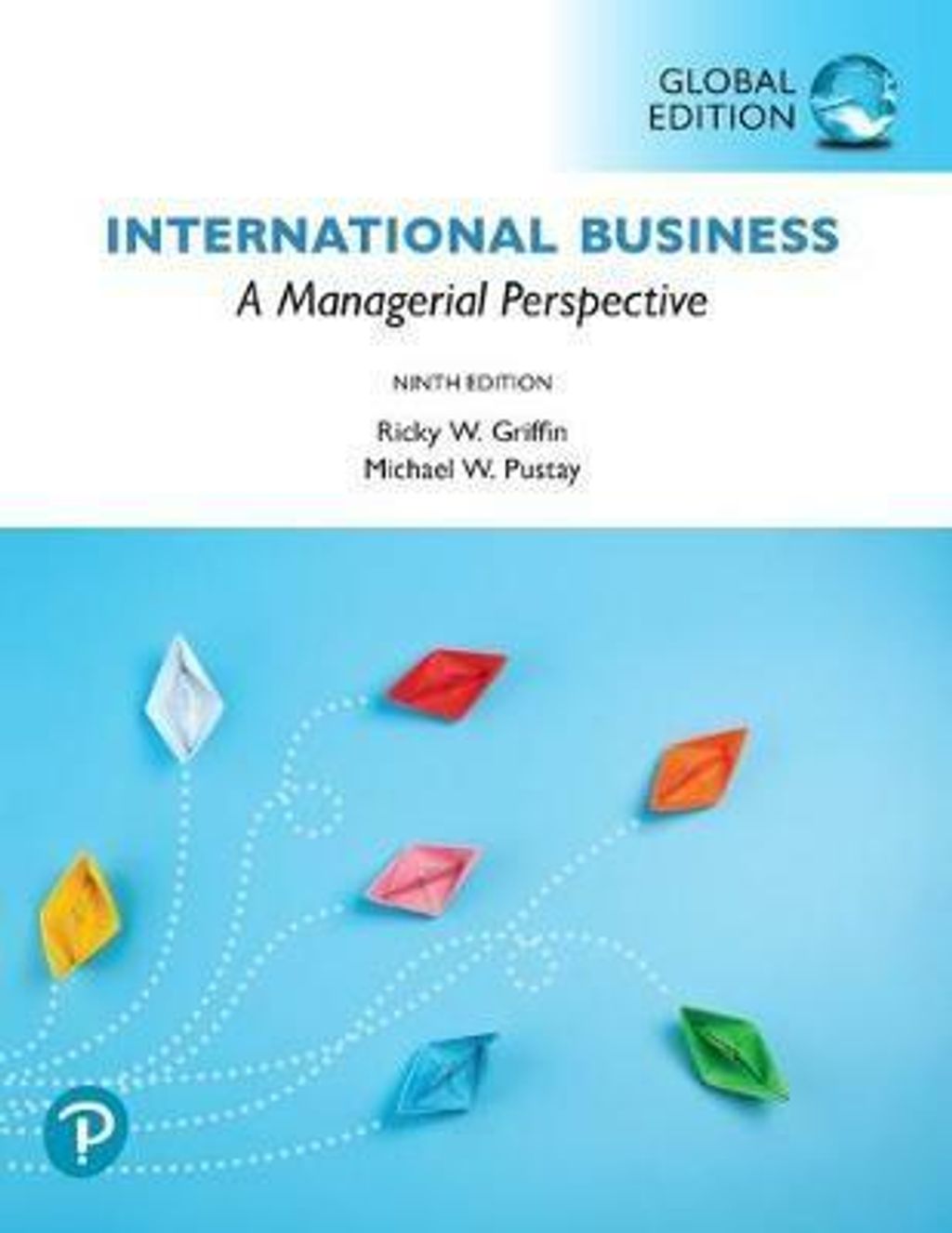 International Business: A Managerial Perspective 9th GE Ricky Griffin / Micheal Pustay 9781292313733
TITLE : International Business: A Managerial Perspective Ricky Griffin / Micheal Pustay
ISBN13 : 9781292313733
PUBLISHER : PEARSON (2019)
EDITION : 9TH GLOBAL EDITION PAPERBACK
PAGES : 619 COLOR PAGES
For courses in international business.
Successfully prepare students for the international marketplace
International Business illustrates how successful managers must function in a competitive world. Packed with current examples that reflect the vibrancy of the international business field, this student-friendly text offers a managerial approach that keeps an emphasis on skills development, emerging markets, and geographical literacy. It also greatly emphasises cultural literacy and gives students the tools to effectively communicate with foreign business representatives. The 9th Edition features new cases, boxes, and analyses reflecting the latest challenges and opportunities confronting international businesses, so students are prepared to successfully conduct business with organizations worldwide.
Table of contents
PART 1: THE WORLD'S MARKETPLACES

1. An Overview of International Business

2. Global Marketplaces and Business Centers

3. Legal, Technological, Accounting, and Political Environments

4. The Role of Culture

5. Ethics and Social Responsibility in International Business



PART 2: THE INTERNATIONAL ENVIRONMENT

6. International Trade and Investment

7. The International Monetary System and the Balance of Payments

8. Foreign Exchange and International Financial Markets

9. Formulation of National Trade Policies

10. International Cooperation Among Nations



PART 3: MANAGING INTERNATIONAL BUSINESS

11. International Strategic Management

12. Strategies for Analyzing and Entering Foreign Markets

13. International Strategic Alliances

14. International Organization Design and Control

15. Leadership and Employee Behavior in International Business



PART 4: MANAGING INTERNATIONAL BUSINESS OPERATIONS

16. International Marketing

17. International Operations Management

18. International Financial Management

19. International Human Resource Management and Labor Relations
---