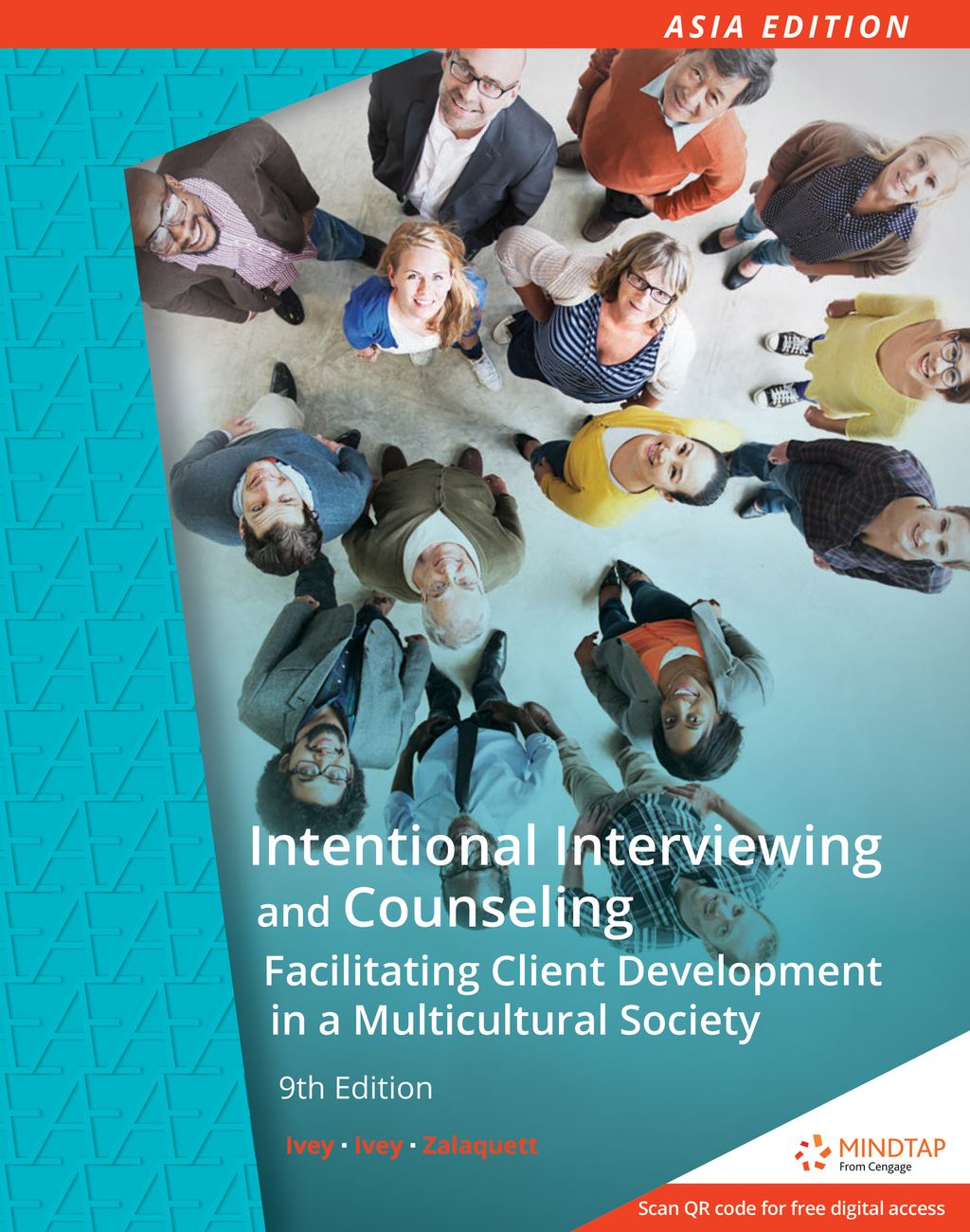 [U] INTENTIONAL INTERVIEWING AND COUNSELING 9E AE - IVEY IVEY 9789814834704
TITLE : INTENTIONAL INTERVIEWING AND COUNSELING - ALLEN E. IVEY / MARY BRADFORD IVEY
ISBN13 :9789814834704
PUBLISHER : CENGAGE (2018)
EDITION : 9TH ASIA EDITION PAPERBACK
PAGES : 460 PAGES
Over 500 data-based studies and years of field testing attest to the effectiveness of the microskills model in INTENTIONAL INTERVIEWING AND COUNSELING: FACILITATING CLIENT DEVELOPMENT IN A MULTICULTURAL SOCIETY, 9th Edition. This hallmark text enables students of many backgrounds to master basic skills in a step-by-step fashion, empowering them to use listening and influencing skills as they conduct full interviews. Students are challenged to re-evaluate their behaviors and perceptions, thereby gaining insight about themselves, their strengths, and areas where they can develop further. After finishing the text, students will have the ability to adapt their skills to address individual and multicultural uniqueness, conduct interviews using different theoretical approaches, and be well on their way to developing a personalized style and theory of interviewing and counseling. Neuroscience and neurobiology, and their applications to counseling, are clearly outlined throughout.
Table of Contents
Demystifying the Helping Process.
Section I: THE FOUNDATIONS OF COUNSELING AND PSYCHOTHERAPY.
1. Intentional Interviewing, Counseling, and Psychotherapy.
2. Ethics, Multicultural Competence, Positive Psychology, and Therapeutic Lifestyle Changes.
3. Attending Behavior and Empathy Skills.
4. Observation Skills.
Section II: THE BASIC LISTENING SEQUENCE: HOW TO ORGANIZE A SESSION.
5. Questions: Opening Communication.
6. Encouraging, Paraphrasing, and Summarizing: Active Listening and Cognition.
7. Observing and Reflecting Feelings: The Heart of Empathic Understanding.
8. How to Conduct a Five-Stage Counseling Session Using Only Listening Skills.
Section III: FOCUSING AND EMPATHIC CONFRONTATION: NEUROSCIENCE, MEMORY, AND THE INFLUENCING SKILLS.
9. Focusing the Counseling Session: Contextualizing and Broadening the Story.
10. Empathic Confrontation and the Creative New: Identifying and Challenging Client Conflict.
Section IV: INTERPERSONAL INFLUENCING SKILLS FOR CREATIVE CHANGE.
11. Reflection of Meaning and Interpretation/Reframing: Helping Clients Restory Their Lives.
12. Action Skills for Building Resilience and Managing Stress: Self-Disclosure, Feedback, Logical Consequences, Directives/Instruction, and Psychoeducation.
Section V: SKILL INTEGRATION, THEORY INTO PRACTICE, AND DETERMINING PERSONAL STYLE.
13. Counseling Theory and Practice: How to Integrate the Microskills Approach with Multiple Approaches.
14. Skill Integration and Determining Personal Style.
Appendix I: The Ivey Taxonomy: Definitions of the Microskills and Strategies with Anticipated Client Response.
Appendix II: Ethics.
Appendix III: The Family Genogram.
Appendix IV: Counseling, Neuroscience/Neurobiology, and Microskills.
---