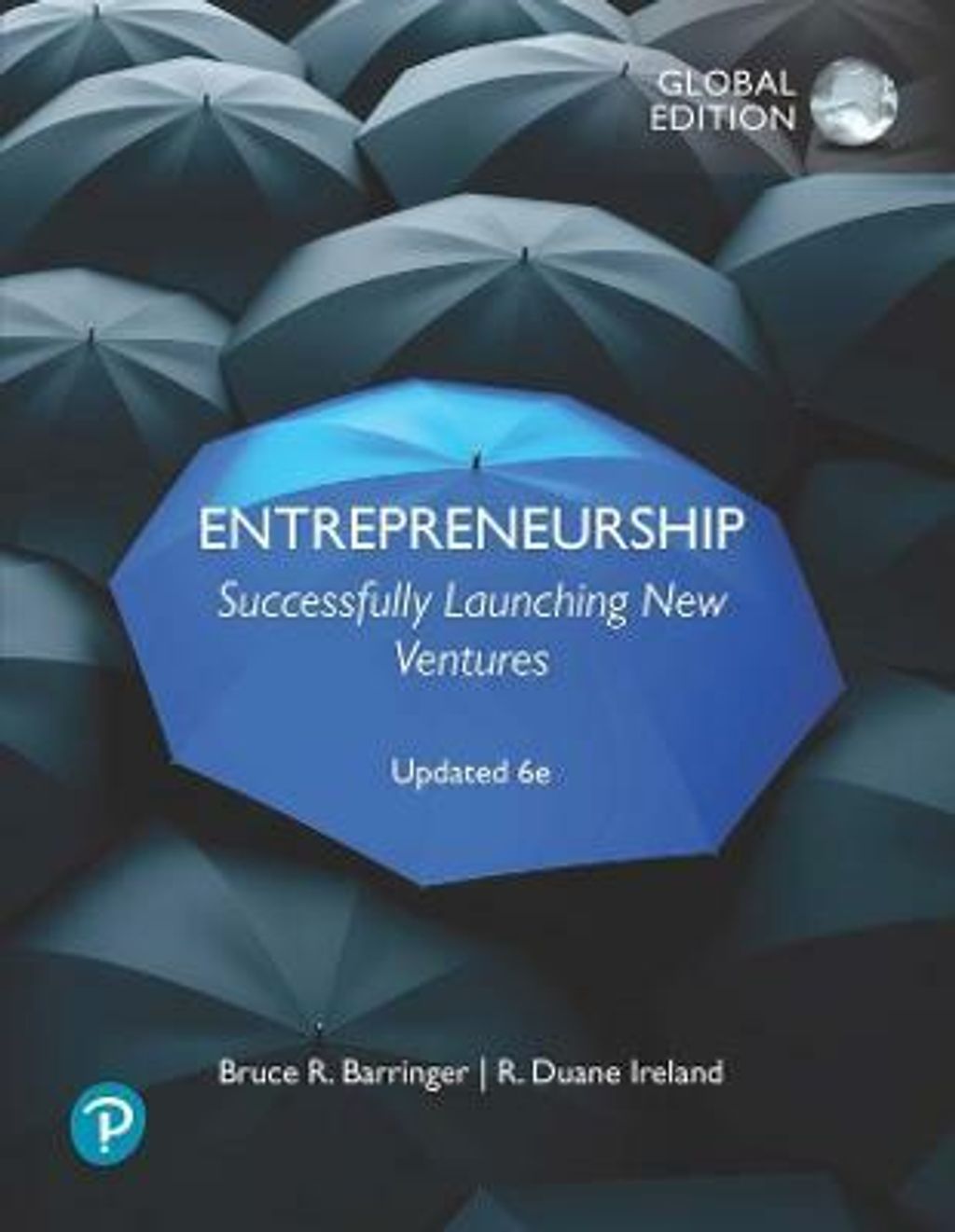 Entrepreneurship: Successfully Launching New Ventures, Updated 6TH GE Bruce Barringer / Duane Ireland 9781292402826
TITLE : Entrepreneurship: Successfully Launching New Ventures, Updated 6TH GE Bruce Barringer / Duane Ireland
ISBN13 :9781292402826
PUBLISHER : PEARSON (2021)
EDITION : 6TH UPDATED GLOBAL EDITION PAPERBACK
PAGES : 620 PAGES
DIGITAL UPDATE available forSpring 2021 classes
Forcourses in entrepreneurship.
Learn about the entrepreneurial processthrough real-world examples
Entrepreneurship: Successfully Launching New Ventures explores the allure of entrepreneurship,teaching students how to successfully launch and grow their own business. Usingreal business profiles of inspiring young entrepreneurs, the text engagesstudents through relevant examples they can easily relate to. The 6thEdition examines entrepreneurship through an easy, four-step processthat clearly outlines both the excitement and difficulty of launching a newcompany. Careful to identify failures as well as successes, the text is a guideto starting a new business.
Table of contents
PART I: DECISION TO BECOME AN ENTREPRENEUR
1. Introduction to Entrepreneurship

PART II: DEVELOPING SUCCESSFUL BUSINESS IDEAS
2. Recognizing Opportunities and Generating Ideas
3. Feasibility Analysis
4. Developing an Effective Business Model
5. Industry and Competitor Analysis
6. Writing a Business Plan

PART III: MOVING FROM AN IDEA TO AN ENTREPRENEURIAL FIRM
7. Preparing the Proper Ethical and Legal Foundation
8. Assessing a New Venture's Financial Strength and Viability
9. Building a New-Venture Team
10. Getting Financing or Funding

PART IV: MANAGING AND GROWING AN ENTREPRENEURIAL FIRM
11. Unique Marketing Issues
12. The Importance of Intellectual Property
13. Preparing for and Evaluating the Challenges of Growth
14. Strategies for Firm Growth
15. Franchising

Glossary
Name Index
Company Index
Subject Index
---