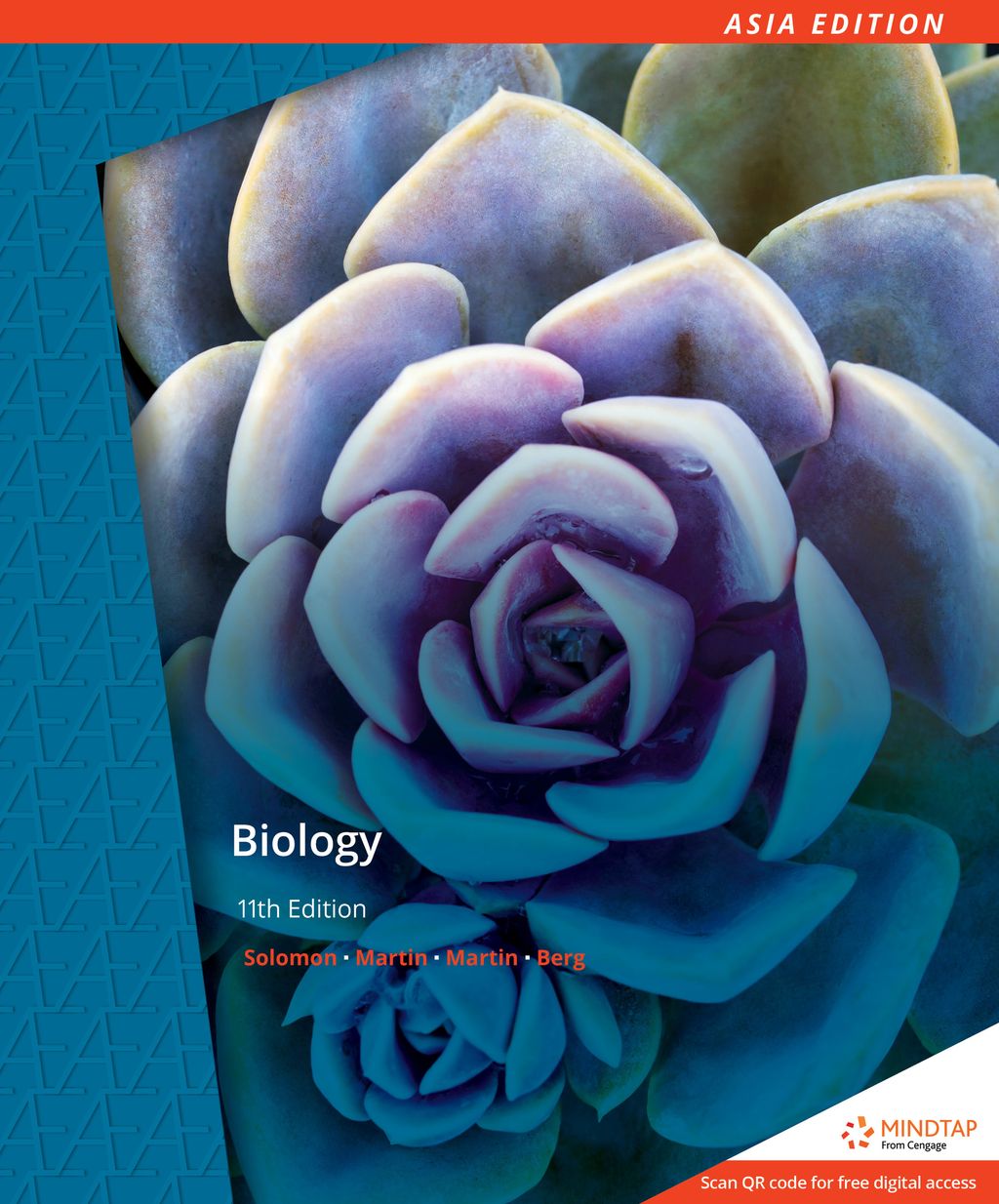 BIOLOGY 11E AE - ELDRA P SOLOMON 9789814834384
TITLE :BIOLOGY - ELDRA P SOLOMON / CHARLES E MARTIN
ISBN13 : 9789814834384
PUBLISHER : CENGAGE (2018)
EDITION : 11TH ASIA EDITION PAPERBACK
PAGES : 1488 COLOR PAGES
Solomon, Martin, Martin and Berg's BIOLOGY--often described as the best majors' text for learning Biology--is also a complete teaching program. The integrated, inquiry-based learning system guides students through every chapter, starting with key concepts at the beginning of each chapter and learning objectives for each section. End-of-section Checkpoint questions encourage students to review key points before moving on. A chapter summary further reinforces learning objectives, followed by an opportunity for students to test their understanding. The eleventh edition offers expanded integration of the text's five guiding themes of Biology--the evolution of life, the transmission of biological information, the flow of energy through living systems, interactions among biological systems and the inter-relationship of structure and function. Available with MindTap Biology, the platform that gives instructors complete control of their course and powers students from memorization to mastery.
TABLE OF CONTENT
Part I: THE ORGANIZATION OF LIFE.
1. A View of Life.
2. Atoms and Molecules: The Chemical Basis of Life.
3. The Chemistry of Life: Organic Compounds.
4. Organization of the Cell.
5. Biological Membranes.
6. Cell Communication.
Part II: ENERGY TRANSFER THROUGH LIVING SYSTEMS.
7. Energy and Metabolism.
8. How Cells Make ATP: Energy-Releasing Pathways.
9. Photosynthesis: Capturing Light Energy.
Part III: THE CONTINUITY OF LIFE: GENETICS.
10. Chromosomes, Mitosis, and Meiosis.
11. The Basic Principles of Heredity.
12. DNA: The Carrier of Genetic Information.
13. Gene Expression.
14. Gene Regulation.
15. DNA Technology and Genomics.
16. Human Genetics and the Human Genome.
17. Developmental Genetics.
Part IV: THE CONTINUITY OF LIFE: EVOLUTION.
18. Introduction to Darwinian Evolution.
19. Evolutionary Change in Populations.
20. Speciation and Macroevolution.
21. The Origin and Evolutionary History of Life.
22. The Evolution of Primates.
Part V: THE DIVERSITY OF LIFE.
23. Understanding Diversity: Systematics.
24. Viruses and Subviral Agents.
25. Bacteria and Archaea.
26. Protists.
27. Seedless Plants.
28. Seed Plants.
29. The Fungi.
30. An Introduction to Animal Diversity.
31. Sponges, Cnidarians, Ctenophores, and Protostomes.
32. The Deuterostomes.
Part VI: STRUCTURE AND LIFE PROCESSES IN PLANTS.
33. Plant Structure, Growth, and Development.
34. Leaf Structure and Function.
35. Stem Structure and Transport.
36. Roots and Mineral Nutrition.
37. Reproduction in Flowering Plants.
38. Plant Developmental Responses to External and Internal Signals.
Part VII: STRUCTURE AND LIFE PROCESSES IN ANIMALS.
39. Animal Structure and Function: An Introduction.
40. Protection, Support, and Movement.
41. Neural Signaling.
42. Neural Regulation.
43. Sensory Systems.
44. Internal Transport.
45. The Immune System: Internal Defense.
46. Gas Exchange.
47. Processing Food and Nutrition.
48. Osmoregulation and Disposal of Metabolic Wastes.
49. Endocrine Regulation.
50. Reproduction.
51. Animal Development.
52. Animal Behavior.
Part VIII: THE INTERACTIONS OF LIFE: ECOLOGY.
53. Introduction to Ecology: Population Ecology.
54. Community Ecology.
55. Ecosystems and the Biosphere.
56. Ecology and the Geography of Life.
57. Biological Diversity and Conservation Biology.
---