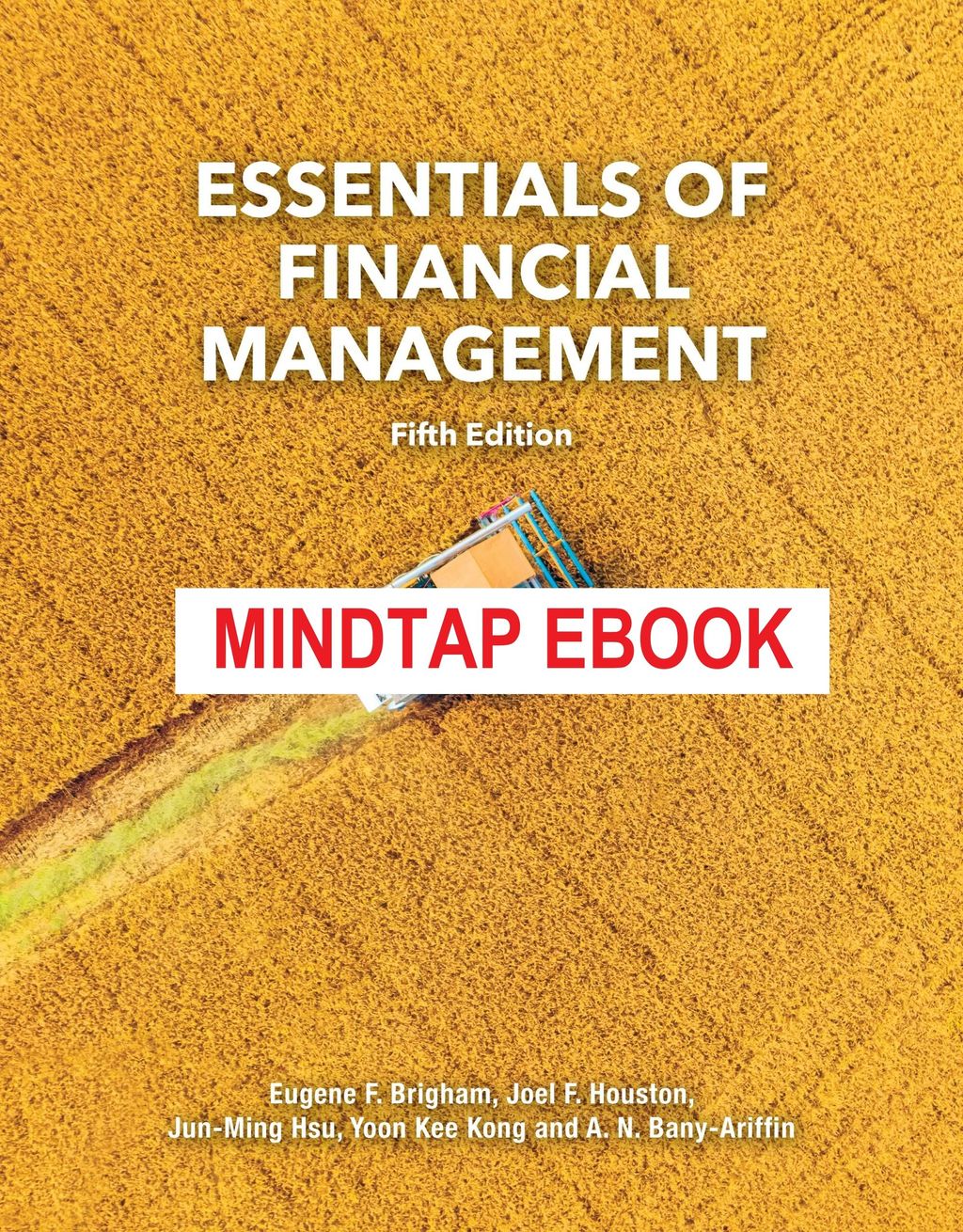 [MINDTAP + EBOOK] ESSENTIAL OF FINANCIAL MANAGEMENT EUGENE BRIGHAM 5E [12MONTHS]
TITLE : ESSENTIAL OF FINANCIAL MANAGEMENT EUGENE BRIGHAM / JOEL F HOUSTON
ISBN13 : MINTAP EBOOK [12MONTHS ACCESS]
PUBLISHER : CENGAGE (2023)
EDITION : 5TH EDITION PAPERBACK BOOK
PAGES : 864 PAGES
The fifth edition of ESSENTIALS OF FINANCIAL MANAGEMENT continues to provide students with a focused understanding of today's corporate finance and financial management. This market-leading text offers a unique balance of clear concepts, contemporary theory, and practical applications in order to help students understand the concepts and reasons behind corporate budgeting, financing, working capital decision making, forecasting, valuation, and the time value of money. It has been updated to include discussions of several major events such as the coronavirus pandemic's dramatic transformation of the world economy, and the important influences of increased globalization and changing technology.
TABLE OF CONTENTS
PART I. Introduction to Financial Management.
1 An Overview of Financial Management.
2 Financial Markets and Institutions.
PART II. Fundamental Concepts in Financial Management and Financial Forecasting.
3 Financial Statements, Cash Flow, and Taxes.
4 Analysis of Financial Statements.
5 Time Value of Money.
6 Financial Planning and Forecasting.
PART III. Financial Assets.
7 Interest Rates.
8 Risk and Rates of Return.
9 Bonds and Their Valuation.
10 Stocks and Their Valuation.
PART IV. Investing in Long-Term Assets: Capital Budgeting.
11 The Cost of Capital.
12 The Basics of Capital Budgeting.
13 Cash Flow Estimation and Risk Analysis.
14 Real Options and Other Topics in Capital Budgeting.
PART V. Capital Structure, Dividend Policy, and Working Capital Management.
15 Capital Structure and Leverage.
16 Distributions to Shareholders: Dividends and Share Repurchases.
17 Working Capital Management. PART VI Special Topics in Financial Management.
18 Derivatives and Risk Management.
19 Multinational Financial Management.
20 Hybrid Financing: Preferred Stock, Leasing, Warrants, and Convertibles.
21 Mergers and Acquisitions.
---